Mermaid Leggings are growing in popularity and like most things, the good comes with the bad.  How can you tell which fabrics are cheap, and which will make you feel like a Mermaid rockstar? Hopefully, this blog post will help!
DOS AND DON'TS OF THE LEGGING WORLD
DO: Consult a sizing chart before purchasing. Nothing more frustrating than feeling like a stuffed sausage!  The sizes usually come in S M L XL (some XXL) rather than a number (like jeans). If you are buying on Amazon, make sure they are not Asian sizes. If so, order a size up or maybe 2xs bigger. Reading reviews can help to decipher what size to get.
DON'T: Buy leggings with cheap fabric. The $3 leggings are enticing but don't do it! You are worth more than that! Make sure they have more than 12% spandex which makes them considered stretch leggings.
DO: Consider length. Not all body types are the same. Some lengths look better on others. That doesn't mean you are less of a Mermaid. Whether you have curves or no curves, you rock those hips. You have full-length leggings or capris to choose from so pick which works best for you.
DON'T: Overlook comfort. We wear leggings because they are more comfortable than pants. Am-i Right? Right.
Cheap Mermaid scale Leggings
below
12% spandex
. Polyester is not very stretchy, to begin with, but 
will
 hold its shape, which can be a good thing in some cases.
BUY HERE
BUY HERE
Spandex Mermaid Leggings
 The leggings with more Spandex in the mix are a better option. Again, try to find some with a higher than 12% spandex which will give you stretch.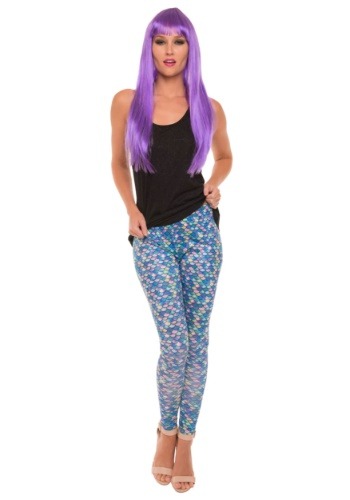 Spandex leggings are known as Wet/dry leggings. This means they can be for everyday use (workout, casual wear etc), OR swimming. They won't fade as quickly as other fabrics.  A lot of swimwear is made out of the verified polyester spandex fabric nowadays.
Want to buy from a trusted brand? Check out these Wet/Dry Leggings by The Mertailor!
Use promo code: MOLLY10 for a 10% discount!!!
You're welcome!
You can also see my personal detailed review for Mertailor leggings for more information! Spoiler alert: I love them. It's the same material they make fabric mermaid tails out of.
These are also a great choice if you are interested in Mermaid brand leggings! The fabric isn't as thick but who could say no to these rainbow colors?
Use the code "EVERYTHINGMERMAID10" for a 10% off discount.
Gift of Nylon
Nylon has the ability to create a soft, smooth look and feels more natural than the poly spandex combo. This style is often more expensive because Nylon is such a sturdy material, but are also the best sellers.
BUY HERE!
BUY HERE
These are recommended for sports and are considered Yoga Mermaid Pants. They are water wicking, durable, soft, stretchy, and breathable. Again, they are generally more expensive but will last you forever. A great wishlist item for Amazon prime!
BUY HERE
Cotton Blend Spandex
cotton-poly spandex
 combos work and can actually give you the benefits of all 3! You get those great colors, stretch and breathing room.
BUY HERE
BUY HERE
If they are made of 100% cotton (or close too) be careful not to get them too big or they will bunch at the knees. Too small, and you might be dealing with see-through fabric. Remember, don't wear cotton leggings for working out. Just go for the Mermaid Yoga Pants instead.
BUY HERE
Can't get enough of Ariel The Little Mermaid? How fun are these? You will get someone commenting on these fun leggings as you go about your day.
I hope this blog post is helpful. Comment below if there are any brands that you really like and we can share with my mermaid readers.