Recently I was in Paris France and came across 2 huge beautiful fountains. A smaller mermaid statue caught my eye and I soon realized it had about a dozen more!  The fountain is called "Fontaines De La Concorde" and has figures of the Tritons and nereids made of bronze.
This fountain was completed in the mid-1800, by multiple sculptures.  The south fountain commemorates the maritime commerce and industry of France, and the north fountain commemorates navigation and commerce on the rivers of France. This got me thinking how fun a mermaid statue would be. Come to find out, they are pretty affordable! Check out these mermaid statues I found under $1,000. If that price is still to high, I have a section at the bottom of states under $100. Enjoy!
---
Find A mermaid statue under $1,000!
---
Swept by the sea statue
This is one of my favorites! Subtle and elegant all at the same time. You don't notice the fluke right off the bat so only mermaid lovers will see!

Tomfeel Mermaid Bronze Modern Design Ocean Goddess Female Statue – $440.64
from: TOMTOP Technology Co., Ltd
Toscano Daydreaming Mermaid
Made from crushed stone and bonded with resin, this mermaid is imagining her tails being human legs so she can walk the beaches like she sees the fisherman do.  This 3 foot tall mermaid statue is perfect for home decor or a pond.
Mermaid wall hangings
These next three are ment inside to mount on a wall. I can imagine this inside a restaruant or peir side bar.
This mermaid wall hanging almost looks like it could be at the front of a pirate ship! What do you think?
Don't forget King Triton!
Salma Mermaid sitting by the bay
This lightweight but sturdy mermaid is suitable for in or outdoor decoration. This mermaid sits flat on sturdy surfaces and could be featured on a bar.
Cast Iron Mermaid statue
Very similar to Selma, this cast iron mermaid sits and sunbathes. I love the detail in the fin. It comes in smaller sizes as well!
Bronze Hair Mermaid
Watch as a mermaid rests from the waves and combs her fingers through long hair draped over one shoulder. I love how the tail curves around her as she gazes out over the sea (or garden)
Resting mermaid statue
If you are looking for a more modest mermaid, this could be your answer! She has a top on and is laying on her stomach. The detail in her hair, and tail are amazing!
Underwater mermaid sculpture
Slightly more on the sexy side, this mermaid is hanging out at the bottom of the ocean playing with her hair. This sculpture has a green hue to it as its coated in a dark green patina.
The three mermaids
Can't decide on which one you like? Get this 3 peice set and have it all! Love this group of sirens.
Mermaid Tray statue
I am not sure what this mermaid is doing, but I am all about functionality! A peice of art you can use. Maybe have this in your room and put some jewerly in it? Or have it by your front door and use it to put your keys. What would you use this mermaid statue for?
Cold cast bronze mermaid
She has a glow to her doesn't she? A simple yet ellegent peice of art. All the reviews says give it 5 stars.
---
Find a Mermaid Statue under $100
---
Some of us mermaids are not made out of money. No worries! There are actually some really good options under $100. They might not be as big and sturdy as the options above but still fun to have around. Which one do you like best?
Mermaid and Merman Statue
We focus a lot on mermaids luring their prey into the sea, or the little mermaid longing to be a human so she can be with her prince. What about the mermaid couples that find each other under the water? Seeing this reminds me of how important family is and to have adventures with each other.
Italian dolphin and mermaid sculpture
I like how unique this sculpture is with the mermaid inverted like that. I haven't seen any other similar as she dives to the bottom of the ocean. Looks like this mermaid has found a friend. Maybe this small dolphin is lost and the kind mermaid is there to comfort.
Neptune With Mermaid And Ocean Creatures Figurine
Neptune is not messing around in this statue. He is ripped! I am not sur what's going on here. All I know is that it's intense!
Meara The Mermaid Swimmer Statue
Out of all the statues, I prefer this one the most. It's unique as she is swimming and doesn't show her whole body. I like the blue tones and that her fluke looks like a trident.
rising from the sea statue
Less than a foot tall, this detailed sculpture captures the moment when the mermaid desides to venture to the surface. Her hair susspended in water, and her tail ready to push off the bottom. Check out all the shell jewelry she is wearing!
The White Mermaid Statue
You might not like the bronze or cast iron look. This beautiful and tranquil mermaid is only 6 inches tall and would be perfect for a shelf decoration.
Mermaid tray
A lovely mermaid sits in a clam shell. This is a flat sturdy tray that can hold your mermaid jewelry or some mermaid soap!
Merman stretching on a rock sculpture
Mermen need to take a break too! Coming up to the surface to see the sun, and fresh ocean air.
---
little mermaid statue
Here are a few for those who really can't see a mermaid, and not think of Ariel.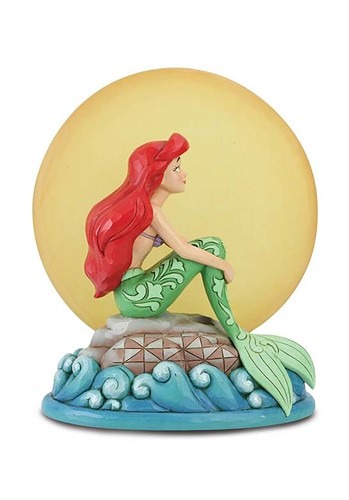 Ariel Sitting on Rock by Moon Statue – $64.99
from: Fun.com

Little Mermaid Ariel Grand Jester Studios Statue – $59.99
from: Fun.com

Ursula The Little Mermaid Statue – $59.99
from: Fun.com
I hope you got some ideas of what's out there for whatever mermaid statue you are looking for. Feel free to comment below and let me know which one you like the best!