Alright, Mer-Ladies! Let's talk about your mermaid bra.
I recognize that your mermaid top is the second most important part of your Mer-sona! Mermaid tail is the first of course. So how do we go about picking the right one?
Well, it depends on what type of mermaid activities you are doing! For example. If you are learning how to swim in your tail just playing in the pool, you don't want a heavy seashell top. But if you are doing underwater photography, you might! What about parties, parades, or mermaid appearances?
Let's talk about the different types and uses. Ready to dive in?
---
women Mermaid Bra Options
Parades, Parties, Photography, Performances, Swimming, Costumes, Raves, and More
---
Silicone mermaid tops
Seashell tops
Shell shaped bra
Mermaid swimsuit top
Mermaid costume top
Seashell pasties
Belly dancing tops
Sequin bras
Mermaid rave top
Sequin crop top
Mermaid halter top
Sequin tube top
Starfish bra
---
Silicone bra
---
Silicone mermaid bras are the most versatile professional top. Use these silicone tops at any mermaid event or performance. Silicone doesn't sink or float so it's great for water activities!  The design is actually a regular bra with silicone scales applied to create the illusion.  This way you have a comfortable fit without losing your professional mermaid look.
The amazing thing about silicone is customize-ability. Color, style, shape, you name it! The downside is they can be expensive! If you are a serious up-and-coming mermaid I suggest looking into this option.
---
Seashell bra
---
Next, we have the classic Seashell Bra. Search on Etsy and you see plenty to choose from.  This is also a standard base nude bra, with shells and sequins attached with waterproof glue.  These also can be customized or even DIYed! Be aware, the more shells the heavier these puppies can get!
These mermaid shell bras are best for photography, Halloween costumes, and parades (but not for swimming).
---
Shell bra
---
This is a great alternative to a heavy seashell or silicone bra. The shape of a shell, the feel of a bra top.  A cheaper option for those who don't want to break the bank!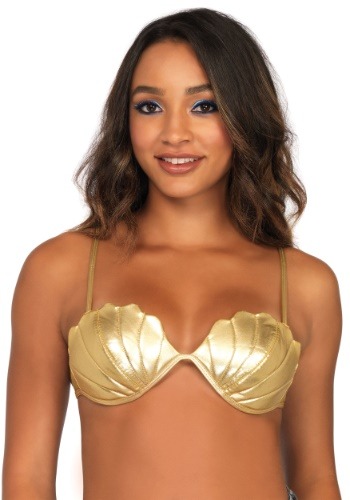 ---
mermaid swimsuit top
---
A lot of you have mermaid fabric tails and just looking for a nice top to swim in. A mermaid bathing suit or seashell bikini has the spandex polyester fabric that creates quick drying time.  They are not customize-able but do have the shell shape and decently priced. This can also work as a fun purple mermaid bra so you can feel like Ariel from Disneys the little mermaid!
(* = affiliate link / image source: Amazon partner program)
mermaid shell Shirt
You might be reading this post looking at tops for your Mermaid Halloween Outfit. Most will come with the Halloween costume but you can always buy separately if the top doesn't fit like expected. If the plastic shells are intimidating for you (they would be for me) you can always go for a mermaid seashell shirt with clam shells on them. If this doesn't strike your fancy, don't worry. There are plenty of costume accessories out there.
---
seashell Pasties
---
Would you dare? I personally haven't used these, but have seen them used at mermaid parades. You are a brave mermaid to wear these!  I have also seen them at raves (just kidding, I am not cool enough to go to raves.)
(* = affiliate link / image source: Amazon partner program)
---
belly dancing mermaid top
---
I bet you didn't think about this! Belly dancing tops are a great alternative for mermaid bras. They come in a variety of sizes and have plenty of bling needed to get some attention. Great for parades, parties, and mermaid appearances. Not so great for swimming.
(* = affiliate link / image source: Amazon partner program)
---
Sequin Bra
---
A close alternative to the belly dancing top is the standard sequin bra. Not as flashy but still does the trick. These are particularly nice as they have adjustable straps.
---
mermaid rave top
Need some alternative options? Ok! I Heart Raves has some alternative mermaid wear for rave costumes. Probably not appropriate for kid parties but raves and mermaid parades would work great! Not recommended for swimming or mermaid photography.
---
sequin crop tops
---
This women's sequin crop top adds the sparkle you need for parties or costumes. If you looking for a modest approach tank tops would be best. However, crop tops do cover more area of the chest and stomach areas.
---
mermaid Halter top
---
A halter top is very similar to the crop top but the straps go right behind the neck. Totally sexy and works for a mermaid outfit.
---
sequin Tube top
---
Last sequin option I promise! Tube tops might have gone out of style in the 90s but might be nice for a mermaid top. Great for parties or parades, you wear your favorite strapless bra under the sequin tube top and you are good to go!
(* = affiliate link / image source: Amazon partner program)
---
Alternative Mermaid bra
---
Star Fish Bra
Starfish bras are a thing! Made over a nude bra gives the illusion. Great for any mermaid event, photography, and even swimming!
Full on Shell Top
Would you dare? This is about as mermaid as you can get!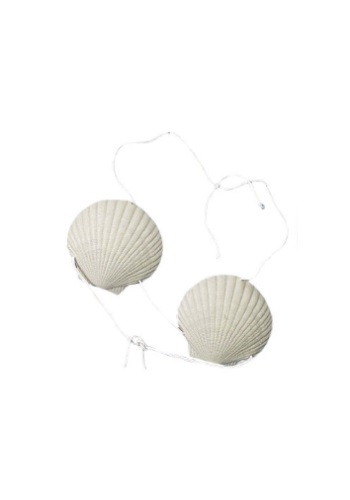 ---
Did I miss any? Comment below and let me know if there is a brand or style I need to mention here on the post.
---