Fleece Mermaid tail blankets can be hit or miss. Some mermaid blanket brands on the market are great and worth the price, and others I suggest you pass on.  My main suggestions for finding a worthwhile fleece mermaid tail blanket are:
Make sure it is quality fabric. Plain fleece will get old quicker and eventually feel scratch.
Make sure you can insert your feet into the fluke of the tail. Having your feet come to a point in a blanket gets uncomfortable quick.
Make sure you are buying the blanket for colder weather. Fleece blankets are more like sleeping bags and tend to be a warmer fabric. Crochet blankets are lighter and usually come with a slit in the back so it is easier to put on.
If you are in the market, here are a few I suggest worth buying!
---
Fleece Blankie Tail

Blankie Tails™ Kids Aqua & Ocean Blue Mermaid Tail Blanket – $19.95
from: Beau-coup.com
This blankie tails is by far my favorite.  I love the ombre colors, soft fabric, and reasonable price. Check out my post for Blankie tail review!
---
Knot A Mermaid Tail Blanket

Knot-A-Mermaid DIY Kit – $34.95
from: Beau-coup.com
This is a little different than the usual fleece blanket! You can DIY it!
---
kids Mermaid Tail Fleece Blanket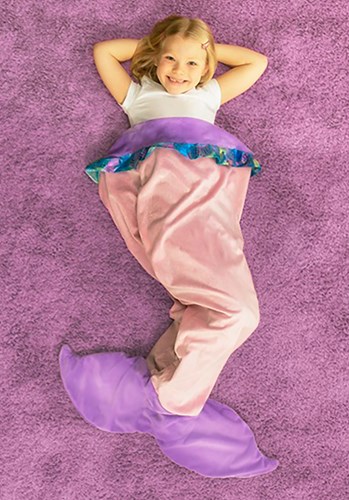 Kid's Mermaid Blanket – $34.99
from: HalloweenCostumes.com
This tail is perfect for a little one to sleep in!
---
Killer Whale Fleece Blanket

Blankie Tails Kids Orca Blanket – $39.95
from: Beau-coup.com
Ok, This is just too cute not to include.
What a fun gift idea this is. They even have a shark tail you can buy!
---
Personalized Fleece Mermaid tail Blankets
Etsy has some great options at good prices. They can personalize your tail for you if you plan to give it as a mermaid gift.
BUY HERE
---
Do you have a favorite Fleece Mermaid Tail Blanket?
I want to know your favorite brands! Comment below to share what you like about it for the other readers.
If none of these seem like a good fit for you, maybe the Crochet Mermaid tail blankets are more your style. They have some qualities that fleece blankets don't have.
Good luck in your search!