Whether it be for a costume this Halloween or a mermaid photoshoot you might be looking for a mermaid wig to portray long flowing hair. This blog post will guide you through 6 easy steps to pick the Perfect Mermaid Wig. Let me know if this is helpful!
Step 1: Get your wig measurements
Get a soft measuring tape and go from the back of your skull to the front of your hairline.
This image will help you determine what size your wig should be so it doesn't feel too loose or to tight. Most wigs will come with an adjustable strap so there is some "wig"gle room. Pun INTENDED!
---
Step 2: Choose the Type of mermaid wig
 There are two types of wigs to choose from and benefits to both: Real hair, or the Faux (synthetic hair) version.
REAL HAIR WIG lasts longer and more versatile to style. The downside is, they are more expensive (between $100-$3000).
FAUX HAIR WIG is usually pre-styled and can be worn right out of the box. They don't last as long but are significantly cheaper ($5-120) If you do decide to go with a synthetic version, make sure it is heat resistant.  Going outside with the hot sun for long periods of time can damage the wig. Also, be careful in the kitchen around hot things.
---
CHOOSE A LACE FRONT WIG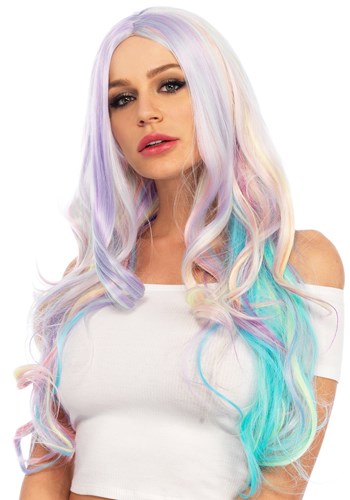 Women's Pastel Rainbow Wavy Wig – $24.99
from: HalloweenCostumes.com
A lace front wig is your best bet if you don't want to look like you are wearing a wig. These wigs have sheer lace hand-sewn into the front.
The benefits to this are; more natural-looking hairline, versatility in styling hair, and accessibility to buy.
I really enjoy my wig and looks natural for those who don't know my true hair color.
---
Step 3: Length
Mermaids tend to have long wavey/beachy hair that goes to the middle of your back. This really is your preference of what mermaid wig you want to go for. Just understand the longer it gets the harder it will be to style, maintain, and store. Below are a few lengths to consider.
---
Step 5: WIG color AND TEXTURE
The great part about wigs is, they come in every color and length you can imagine. Being a mermaid, you can have purple hair and no one would blink an eye.  These can be styled to be straight or really curly. It's up to you!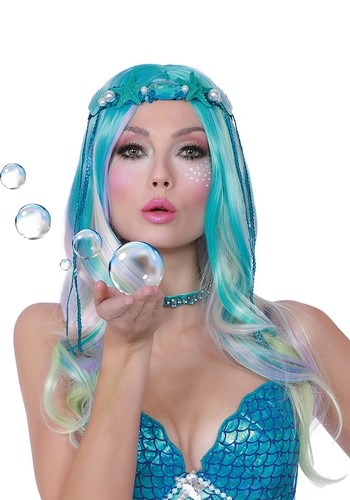 Dressing up like the Little Mermaid?
There will never be a shortage of little mermaid wigs!  Here are a few options.
---
Applying the Wig
There are a few different ways to apply your Mermaid wig: Wig cap, tape, and glue.
The wig cap will help keep your natural hair securely against your head. You start by putting on the wig cap and stuffing your hair securely into the cap. If you have long hair, make two braids and then wrap them around your head, then put on the cap.  This will keep your hair hidden.
Below is a tutorial on how to apply a front lace wig with the wig cap.
Wig Tape and Wig Glue
You can also try tape and glue which are other ways to secure the wig. These are more technical but will help the wig stay secure if you are going dancing or worry about the mermaid wig slipping.
---
Step 6: wig Maintenance
If you spend a pretty penny on a wig you want to take the steps needed to keep it nice. You can place the wig on anything round that helps the wig remember its shape like you would clothe a mannequin. These can be fairly cheap and can be bought at a craft store. You can also turn the wig inside out. Grab the hair in a ponytail and flip it inside the center of the wig. You can store that in a box. Just try not to let too many things rub against the hair.
How To Clean Your Wig:
With Synthetic hair, Woolite for shampoo and Downy Fabric Softener as the conditioner is a great combination. Spray conditioner will help it shine. With real human hair, you can use your own products as it will react the same.
I hope this blog post has helped! If you need more ideas on what to do with your mermaid wig check out my mermaid braid tutorial.
Enjoy!
---