Hello, you fabulous mermaids! I was recently contacted by a few mermaids who wanted me to do a post on plus size mermaid products to support the full-figured mermaid community. I was beyond thrilled! The more I researched the more I am inspired. You might have seen websites like the Society of Fat Mermaids which is all about body positivity and diversifying the image of mermaids. Youtube stars like LoeyLane model a little mermaid swimsuit on an LA beach and says, "I've never gotten so many compliments in public!
In this post, I will tell you where to get plus size products, tails and tops. Check it out!
---
Plus Size mermaid Products
---
Mermaid Plus size leggings
Mermaid leggings are the closest we can come to having our flippers on land but they don't always come in plus sizes. Check out my post for plus size mermaid leggings to find more options!
Mermaid plus size swimsuit
There are some really cute swimsuit options out there in one or two pieces. Take some advice from LoeyLane and love the skin your in!
Plus size mermaid shirts
Get comfy in your mermaid shirt!
Mermaid Maxi Skirt
Check out how crazy cool this plus size skirt is!
Dont let this picture decieve you. This skirt sizes come up to 2XL and looks fabulous!
Plus size mermaid Halloween costumes
Halloween is one of my favorite times of the year. Maybe I just like dressing up but there is some fun options for plus size mermaid costumes!
Did you know Ursula is the only plus-size Disney villain? Say what you want about Ursula but she has a sense of style and can make a sexy Halloween outfit look good.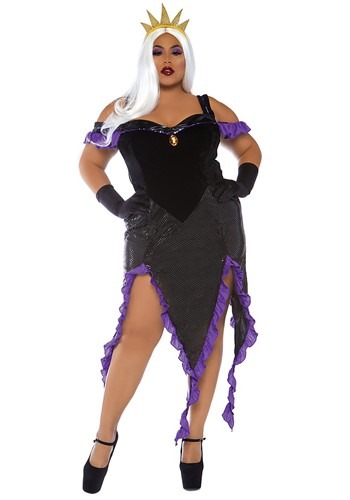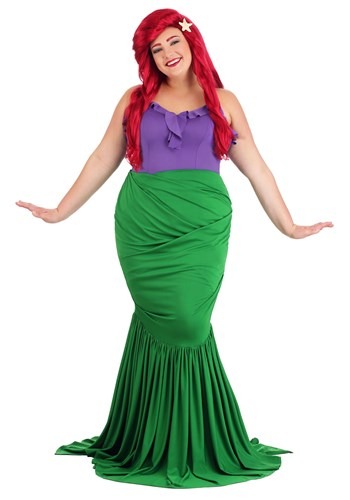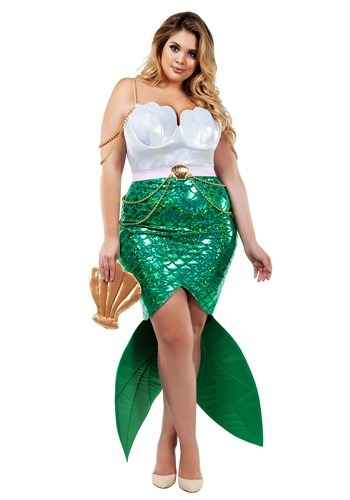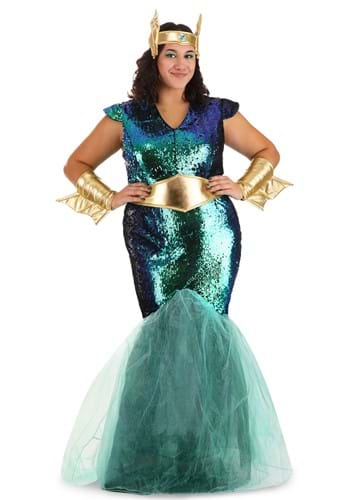 ---
Plus Size mermaid apparel
---
Check out Chè Monique with the Society of Fat Mermaids and her store of Fat mermaid illustrations. They come on super comfy clothing and can be shipped anywhere in the United States!
Model – Mimi @thefullersideofthings
Chè Monique is an advocate for body positivity and has created a site where you can purchase "Fat Mermaid" clothes, mugs and towels. Her 4 main objectives are to:
Encourage you to find your inner mer-babe and embrace a joyous wholehearted life.
Diversify the image of merfolk.
Remind the world that FAT PEOPLE and FAT MERMAIDS are sexy, powerful, intelligent, capable, beautiful, free-spirited, fun-loving and worthy.
Spread messages of diversity and body positivity in a fun way.
15% off discount code
Molly15
---
Plus Size Mermaid Tails
---
There are not a lot of mermaid tails for plus size mermaids but they do exist! Finfolk has a great selection of fabric and mystic tails that come in sizes up to 3XL. Most other tails only go up to an XL.
Check out FinFolk Productions Tails Here
Swim tails is another option that has sizes up to 4XL
---
Plus size mermaid tops
---
Ok ladies, let's get real for a second.
Finding larger mermaid bras is not the easiest thing in the world. They either don't come in larger sizes, or the ones that are large are not cute at all! Well, thanks to Mertailor, you can get a mermaid print top that will actually fit and look incredible. It was super impressed with the design and quality of the top. Featured below is an XL which fits larger than a DDD! The thick straps are comfortable on the neck and I didn't feel like I was falling out during this photoshoot. Click here to read the full review. 
Make sure to use my 10% off discount code if you decide to purchase!
---
Let me know if I have missed your favorite plus size mermaid brand or item and I will add them to the list!