Let's party! Are you looking for some Mermaid party ideas? I have collected my favorite party planning ideas and included a link where to buy. These ideas could be for a child's birthday party, adult party, bridal shower or even a baby shower! Either way, there should be some nostalgia going on. In this post I will cover:
Mermaid treats
Mermaid party favors
Let me know if you have anything to add to the list!
---
Mermaid party invitations
---
Start your party out with a cute customized mermaid invitation. Change what the mermaid looks like on the cover to match the mermaid birthday girl!
If you want a mermaid bridal shower invitation, or baby shower they have those too. A fun excuse to dress up? Am I right?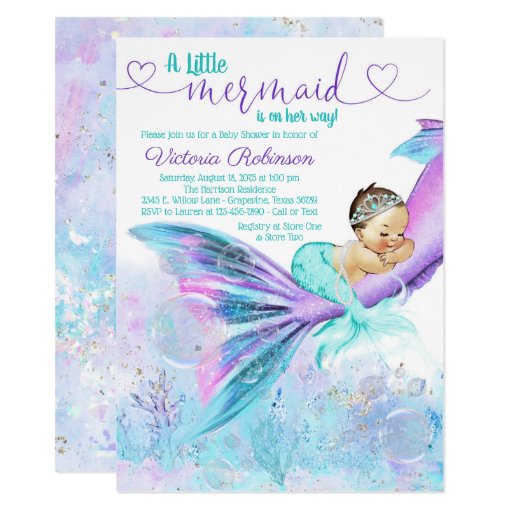 Mermaid Baby Girl Baby Shower Invitation – $2.15
from: Zazzle
---
mermaid party SUPPLIES
---
Alright! (cracking knuckles) Let's talk about mermaid supplies decorations. I mean… who doesn't want their house decked out with mermaid themed party decor? I am a little passionate about that (if you couldn't tell). Some of the below are packets of decorations to buy but there are plenty of DIY stuff you can do if you have time.
Plenty of options to buy packages online with mermaid colors, or you can do some DIY stuff.  What do you think?
Table could not be displayed.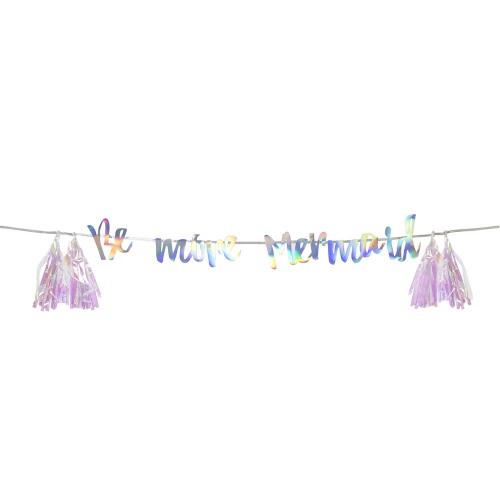 Mermaid Garland
from: Beau-coup.com" target="blank" style="soft" background="#8bb4cd" color="#ffffff" size="7″ center="yes"]CLICK HERE TOO BUY! [/su_button] Mermaid Garland
from: Beau-coup.com
Mermaid Banners
These are a real easy way to decorate and can be stored fairly easily!
Easy ocean theme
Even these ocean themed decorations would look great and could be reused for another party.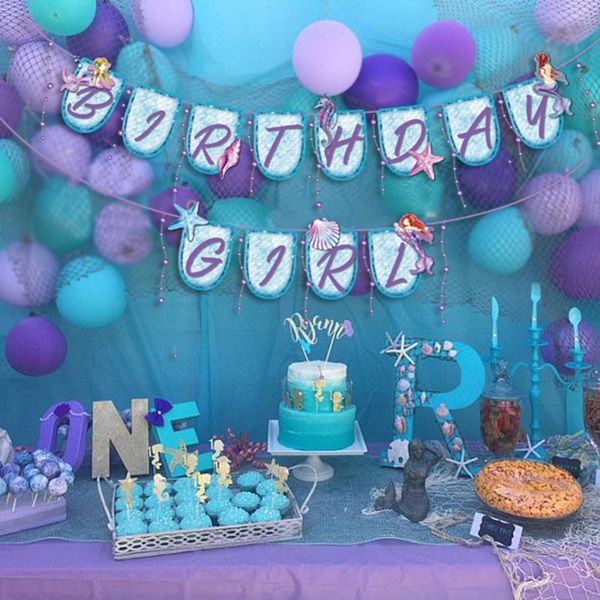 mermaid girl birthday banner 3d diy little mermaid cake er hangling swirl ocean sea theme party supplies – $25.05
from: DHgate
Mermaid table cloth
Get some mermaid sequin fabric for a sparkly table runner that will match with any color scheme.
View on Amazon * $8.97

(* = affiliate link / image source: Amazon partner program)
Matching Plates, napkins etc
Super easy! Get some paper products with mermaid decor, or head to the dollar store and pick your favorite mermaid color.

girl birthday party decoration little mermaid party disposable tableware beach outing supplies wedding baby shower favor – $25.20
from: DHgate
---
Mermaid Cake
---
If you have the time and skill, mermaid cakes are pretty dang cool. There are plenty of different ways to tie in the "under the sea" theme. Check out these ideas and let me know if you dare to try it!
Mermaid cake fondant waves
One day I would like to have this kind of birthday cake talent. However, right now my talent will be admiring these works of art!
Mermaid cake with fondant scales
mermaid ombre icing wave with butter cream ice cream
---
Mermaid cake topper
---
Can't quite stomach the thought of decorating a fancy cake? No worries, there are plenty of mermaid cake toppers you can use.  Definitely not necessary but… is a fun addition. If doing a mermaid cake, or mermaid cupcakes, add a fun mermaid topper with fancy frosting. Also… have you seen these wedding cake toppers? Gorgeous, with Ariel's red hair and flounder.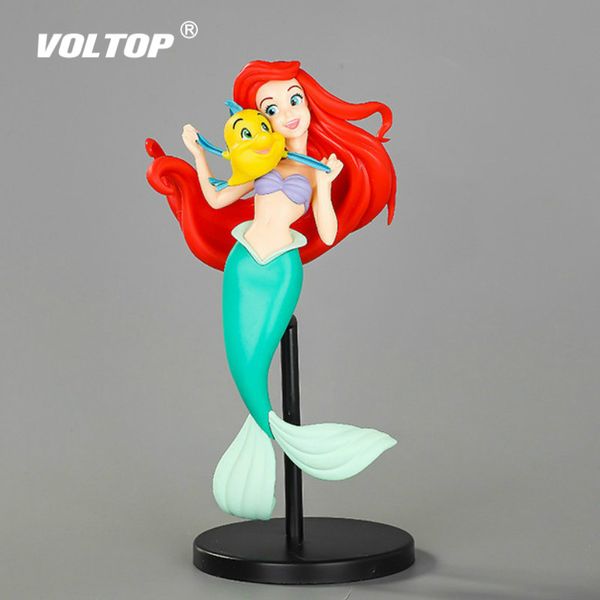 little mermaid princess car accessories for girls ornaments decoration cake decorative birthday wedding party – $28.57
from: DHgate
---
Mermaid Treats
---
This section could go on and on… but hopefully gives you some ideas on what you can do for the party food section!
Under the sea candy
Check this out! Looks like something you would find on the bottom of the ocean!
View on Amazon * $27.99 ($1.50 / Ounce)

(* = affiliate link / image source: Amazon partner program)
Here are a few other ideas for mermaid candy.
---
Mermaid games and activities
---
Mermaid games totally depend on who the party is for. If it is kids or even teenage parties, face paint or face gems are fun to add some sparkle. If you have a pool there are other options to incorporate swimming.
Mermaid Face painting
(* = affiliate link / image source: Amazon partner program)
This is a great birthday party idea for little kids. Use a scale template so all the girls feel like the little mermaid (and you don't have to be self-conscious about your face painting abilities)
View on Amazon * $6.50

As of: July 16, 2019 3:26 pm -

Details

(* = affiliate link / image source: Amazon partner program)
Face Gems
No desire to face paint? I get it, face gems are a good option and gift idea for a party favor bag.  Easier to clean up than glitter. Am I right?
Mermaid photo stand
photo booth supplies For mermaids
Include a fun backdrops and props for a photo opportunity and watch everyone get into the party. Great way to make memories with friends.
(* = affiliate link / image source: Amazon partner program)
Mermaid dress ups

cute girl's mermaid cosplay dress kids party princess dress mermaid costume perform clothes kids christmas party clothes – $10.21
from: DHgate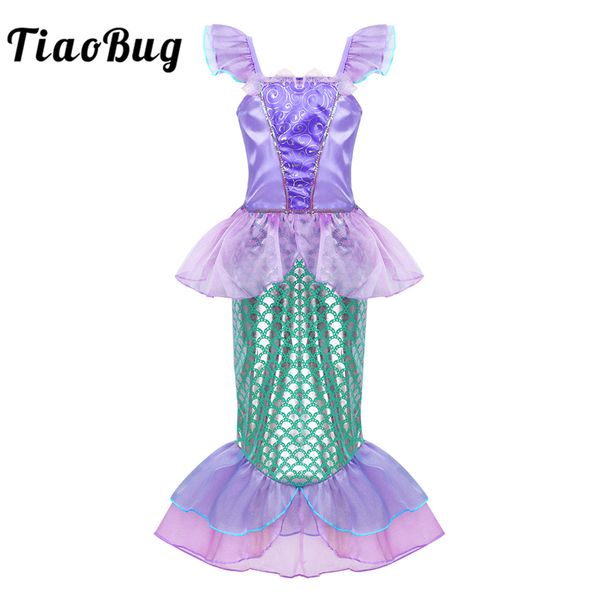 tiaobug cute girls cap sleeve sequin scales printed long dress mermaid costume halloween costume for kids princess cosplay party – $15.37
from: DHgate
Pin the tail on the mermaid
This obviously is for younger kids but I thought it was a creative idea.
Have a table dedicated to coloring mermaid pictures and kids will be occupied for hours.
Not sure how you feel about hitting a tissue paper mermaid, but there are such things as Mermaid Pinatas.  There are shells, pirate chests, and sea animals as alternatives.
(* = affiliate link / image source: Amazon partner program)
---
mermaid pool party
---
Ever thought of hiring a mermaid? The average price is around $200 for the first hour and $150 an hour after that.  They are MAGICAL  for the kids! With or without a pool, mermaids can read books, play games and teach about ocean conservation in their mermaid tail. They arrive early so the kids don't see their land legs! Sneaky.
---
Mermaid Party favors
---
You can find some already made mermaid party favors on Etsy but depending on how many kids you have, that can get expensive quick! Here are some other ideas you can do for the goodie bag.
(* = affiliate link / image source: Amazon partner program)
Mermaid Bath bombs
Sometimes the bombs are funner than soap. Often more expensive but who doesn't want to sit in a colorful bath!
Table could not be displayed.
You can actually find some fairly cheap mermaid jewelry for party favors if you buy them in bulk. Which ones do you like best?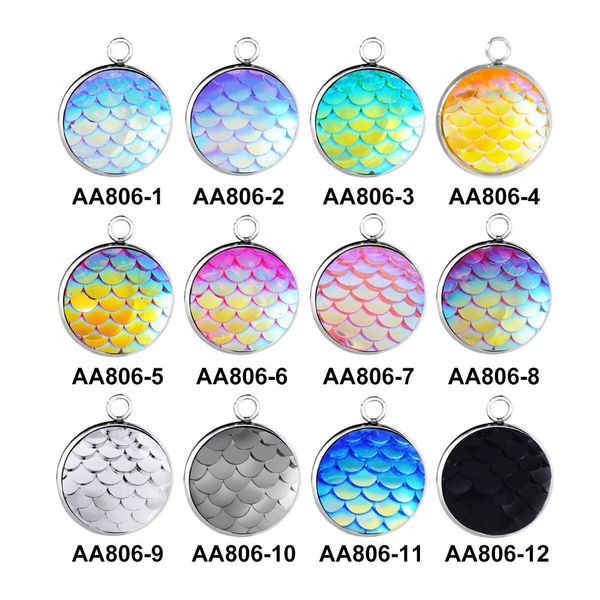 bulk stainless steel 14mm round mermaid scale pendant charm for fashion necklace bracelet earrings jewelry making – $0.16
from: DHgate
Table could not be displayed.
Mermaid hair ties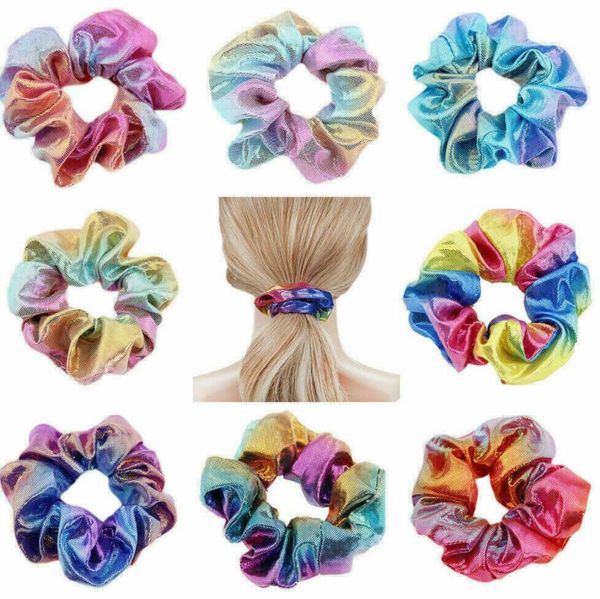 ins mermaid girls hair scrunchies fashion glisten kids hair ties designer hair accessories for women hairbands scrunchies – $0.59
from: DHgate
Mermaid pencils
(* = affiliate link / image source: Amazon partner program)
---
Good luck with your mermaid party! I hope it is magical for you and all your guests!
---
View on Amazon * --

As of: November 7, 2018 7:39 am -

Details

(* = affiliate link / image source: Amazon partner program)
Photo by Elena Roussakis on Flickrr
Photo by Don Buciak II on Flickrr